9 Fun Facts from NJ Travelers Insurance Experts

Did you know?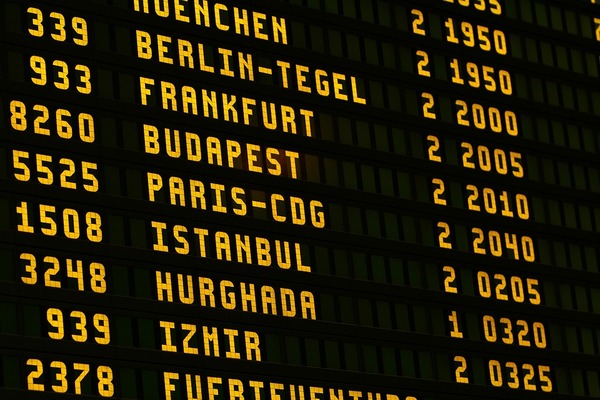 The International Airport in Nashville, TN is a licensed liquor providing premises. That's why travelers can take their alcoholic drink from the airport pub to the boarding waiting area.


The International Airport in San Francisco, CA, as well as the Midway Airport in Chicago, IL, give travelers with long waits something relaxing to do until boarding time: rooms specifically designed to practice yoga.


The coat dilemma for 'snowbirds' heading for the balmier climates doesn't have to exist if they travel via NY's JFK. At Terminal 5, vacationers can take advantage of a service that lets you store your winter coat prior to departing and then retrieve it upon returning.


The now-popular online pre-boarding check-in was first utilized by Alaska's Airline in 1999.


American Airlines employed a thrifty tactic in 1987 when it eliminated an olive from every salad served to First-Class passengers. Overall savings totaled: $40,000.


While many people are afraid of flying, the odds against airplane disaster are overwhelming, with a one in 11 million crash risk for US residents per year.


On average, there is one flight attendant and one restroom for every fifty passengers on an airplane.


The smoke-line of white in the sky left behind in the sky by an airplane can help weathermen with weather forecasts.


Atlanta GA's Hartsfield-Jackson International Airport has consistently been the busiest airport in the world as of a report in 2015.


PRIME Insurance is a 3-generation family-run independent agency that has won the admiration of the industry. We've been presented with numerous awards and been appointed to conduct direct business with more than 40 of the leading companies - big names such as ACE, ASI, ASSURANT, CHUBB, FOREMOST, Liberty Mutual, MetLife, Plymouth Rock, PROGRESSIVE, Safeco, StillWater, Travelers, USLI, ZURICH and more. With over 10,000 satisfied customers, we benefit policyholders by reviewing current coverage, as well as by shopping our wide network to locate tailored coverage at competitively lowest quotes.

HAVE A PRIME DAY™!
PRIME Insurance provides all forms of nationwide coverage, including NJ cheap auto insurance, low quote commercial umbrella insurance NJ, Houston, TX commercial property insurance, flood insurance, vacant property insurance NJ, NJ renters insurance, NJ homeowners insurance, NJ bonds, NJ workers comp, NJ life insurance and more. We invite you to experience the PRIME difference by visiting us on our online insurance website; emailing us at PRIME [at] primeins [dot] com; or by calling us at 732-886-5751.
Summary: Travel certainly can be interesting. PRIME Insurance just made it even more fascinating.