If you drive a car, own a home, rent an apartment or run a business there is one underlying common theme: you need insurance. The question most of ask ourselves when it comes to procuring a sensible policy, backed by a financially secure company at the best rate is: "where do I turn to?"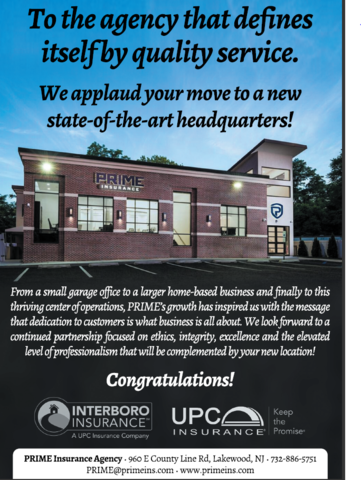 Tailored Insurance Shopping at One All-Encompassing Site
The answer to that can be found in an independent agency that is not constrained by singular loyalty to one insurance company, but with connections to many financially-sound companies, allowing broad access to a selection of excellent policies – nationwide, including NJ cheap auto insurance, low quote commercial umbrella insurance NJ, flood insurance, NJ renters insurance, NJ homeowners insurance, NJ bonds, NJ workers comp, NJ life insurance and more. This winning relationship with the underwriters, enables an agency to:
Concentrate on a client's genuine requirements
Educate the customer on the fine points of different coverage
Scout the insurance network for tailored policies at competitively lowest quotes
In addition, of course, the underlying indication to a leading insurance agency is the recognition it receives by the top names in the field.




PRIME Insurance is a 3-generation family-run independent agency that has won the admiration of the industry. We've been presented with numerous awards and been appointed to conduct direct business with more than 40 of the leading companies - big names such as ACE, ASI, ASSURANT, CHUBB, FOREMOST, Interboro, Liberty Mutual, MetLife, PROGRESSIVE, Safeco, StillWater, Travelers, USLI, UPC, ZURICH and more.
HAVE A PRIME DAY™!
At Prime Insurance, we're dedicated to a holistic customer approach. At Prime, it's not just a sale, but the entire experience. With over 10,000 satisfied customers, all our insurance specialists have recently been relocated under one state-of-the-art roof where an impeccable record of service has advanced to an unprecedented rank of excellence!
PRIME's interaction begins with scrutiny of current coverage and a review of all that's available in our network so that we can locate tailored coverage at competitively lowest quotes, while guiding and educating throughout the process. But that's not where our input ends. We're there for customers long after the sale to stand beside you and secure a claim, oftentimes after regular office hours.
We invite you to experience the PRIME difference by visiting us on our online insurance website; emailing us at PRIME [at] primeins [dot] com or calling us at 732-886-5751!
Summary: Insurance is something we all need. With so many options available, where does the average auto driver and home and business owner locate coverage that makes the most sense for him or her?