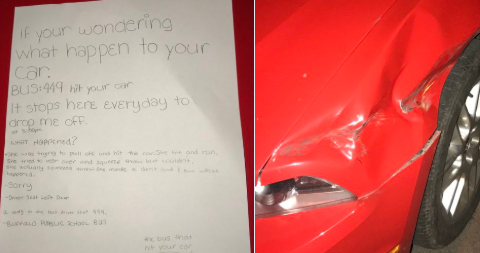 Tell Andrew Sipowicz of Buffalo, NY about hit and run accidents and he'll likely go on about it on a personal level, as broadcast on his twitter account.
While surveying the damage done to his red 2012 Ford Mustang on Monday morning November 20, 2018, Andrew also noticed a note left behind by a witness.
In her own handwriting the 6th grade hero revealed who was liable for the damages.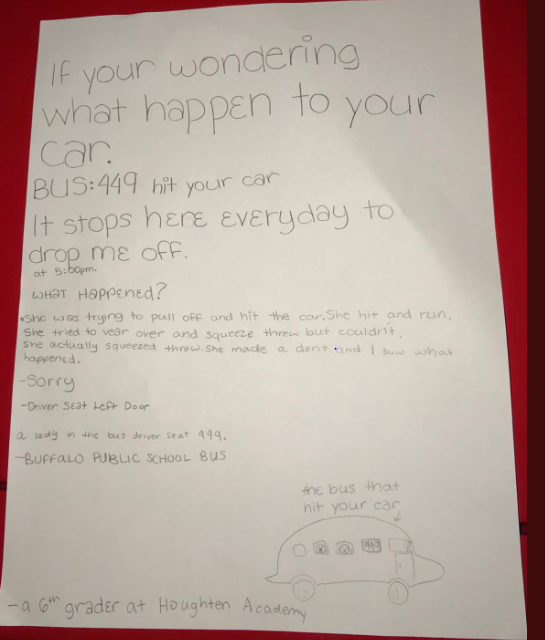 Because of this young student's act, Andrew was able to contact the bus company and begin the insurance claim process.
The bus company accepted full responsibility for the driver's actions, declaring it would cover all expenses related to repair work, and a loaned vehicle for Andrew's use during the interim.
Not every car-owner that incurs damages from someone who deliberately leaves the scene is as lucky.


For those that experience hit and run damages, there are a few rules of thumb offered by the insurance companies.


When the driver of the accident is not found:
File a police report as the accident has occurred or as soon as you discover the damage. Add as much information as you are able to so that law enforcers will have what to work with in tracking down the criminal.
This can include:
Make, model , license plate of the runaway vehicle


Phone number of any witness(es)


Place and time of the collision


Photo images of damages


Doctors report if you experience any related injuries



If the driver has been caught, you can file a claim through his insurance company. In the event the driver is underinsured or does not have auto insurance at all, you can initiate a lawsuit against him or her to try to recover costs. Bear in mind that in most states your own auto insurance policy may pay for medical costs if you have Uninsured Motorist Bodily Injury coverage or the costs to repair damages to your car if you have Uninsured Motorist Property Damage coverage.
If you live in Ohio, Louisiana, Georgia, California, Illinois or Colorado, your auto insurance may cover injury costs if you have Personal Injury Protection (PIP) coverage or Medical Payments coverage, and related vehicular repair work costs if you have Collision coverage.



To speak to a professional about hit and run episodes as well as possible rate increases due to claims, contact us at Prime Insurance!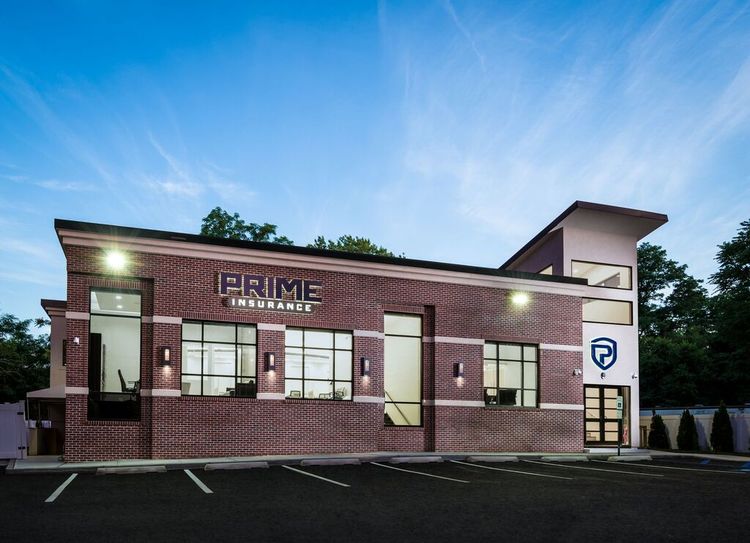 PRIME Insurance is a three-generation family-run independent agency. We're proud to partner with many of the leading underwriters – recognized companies like ACE, AmTRUST, ASI, ASSURANT, CHUBB, CNA, Employers, FOREMOST, Liberty Mutual, MetLife, PROGRESSIVE, Safeco, StillWater, Travelers, USLI, ZURICH and more. This gives us the ability to provide all forms of nationwide coverage and bonds at competitively lowest quotes. Visit us on our online insurance website or email us at PRIME [at] primeins [dot] com or call us at 732-886-5751 and HAVE A PRIME DAY™!
Summary: A witness pointed to the hit and run perpetuator in Andrew's case. Not everyone is so lucky. Here are the tips from the insurance companies, should you become a victim of such an accident.