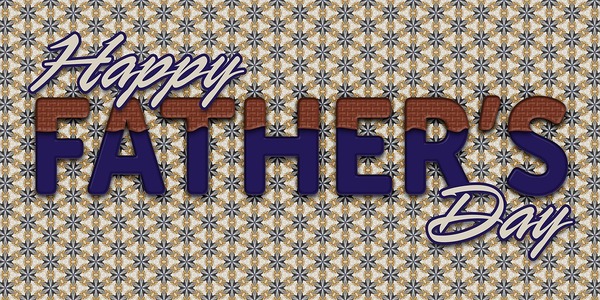 Every year, Father's Day is celebrated on the third Sunday of June. Its origins stem from Sonora Dodd's brainstorm in 1910 on how to pay tribute to her father for everything he had done for her. Because her mom had died when delivering her, Sonora knew that Dad's sacrifices were even more notable.
The idea of commemorating a day just for dad became widespread in 1924 when President Calvin Coolidge endorsed it for the American people.
Fun Facts about Dads
In 2015, a typical American was thought to spend approximately $115 on gifts for dad, with a national average at $12.7 billion.


If you think that there's big spending for fathers, it's little in comparison with the $21 billion spent for Mother's Day in May.


Dad's kids aren't the only ones commemorating the day. It's estimated that twenty percent of Father's Day greeting cards are purchased by wives.


In a 2013 census, 214,000 men were listed as stay at home dads.

The custom of fathers 'giving away the bride' comes from the traditional belief that a father is responsible for his daughter until she marries.
School children whose fathers show interest in the studies prove to be better overall students.


According to research, devoted dads produce physically, mentally and socially healthier kids.


Mr. Arthur Langley notoriously became candidate for worst dad when he abandoned his one-year-old baby in 2012 in order to steal from homes in Brookhaven, PA.


The term 'patrophile' applies to a son or daughter who feels emotionally closer to dad than mom.


Many dads buy a life insurance policy to ensure their children will be financially cared for after they are pass on.
PRIME Insurance is a leading independent agency, appointed to do direct business with more than 40 of the top companies. We search our wide network of providers to bring you tailored coverage at competitively lowest quotes.
We've got all forms of nationwide policies, including NJ cheap auto insurance, low quote commercial umbrella insurance NJ, flood insurance, NJ renters insurance, NJ homeowners insurance, NJ bonds, NJ workers comp, NJ life insurance and so on.

Join more than 10,000 satisfied customers and experience the PRIME difference by visiting our NJ insurance website, emailing us at PRIME [at] primeins [dot] com or call us at 732-886-5751!


Summary: Happy Father's Day from Prime Insurance Agency! Enjoy these fun facts about Dad and the day that honors him!