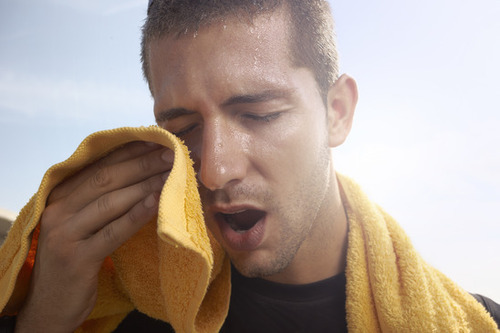 Back in January, how we longed for those deliciously warm days of summer! The thought of stepping out of our homes minus any need to wear hats and coats or scrape the ice off the car seems to always bring a wistful anxiousness for the promising balmy climate of rejuvenation.
Unfortunately, of course, the reality of the long-anticipated balmy summer climate leads us to bemoan the actual condition once it sets in because pleasant summer days too-often turn into an ill-tolerated period that ironically corners us in our sheltered, air conditioned insulated homes just as much as the winter's cold does.
How do we make the most of the months that we've longingly yearned for, regardless of the scorching temperatures that can pose dangerous and even deadly compromises to our health, from heat cramp to heat exhaustion and heat stroke?
Ten Summer-Cooling Tips That Work
Take advantage of cooler times in the day by working out in the early morning or late evening hours.


If you can't manage these hours, incorporate a minimized regulated exercise session: walk instead of run, or reduce the intensity or the amount of time taken to exercise.


Opt for lighter colored and loose-fitting clothes.


Be sure to wear cotton, breathable clothing as opposed to the often stifling synthetics.


Wear a light cotton hat for head protection.


Place plastic bottles of water in the freezer and grab one as you leave your home. As it melts, you'll have a handy and cool, outdoor thirst-quencher to sip on frequently.


Avoid coffee and tea beverages because they dehydrate. Instead, drink plenty of water plus electrolyte beverages, such as sports drinks that fight dehydration.


After spending time in the hot outdoors, use a refrigerated water-filled spray bottle for the perfect misting tool.


Try using fans even with the air conditioner on; the battery-powered portable version can be a refreshing cooling source for the outdoors as well.


Take frequent cool or tepid baths or showers to keep cool all day long.
Does Your Homeowners Insurance Cover Your Air Conditioner?

Generally, homeowners insurance does not cover regular wear and tear of appliances. However, a standard home owner's policy may cover damage from perils such as vandalism, fire or a storm's lightning. If your air conditioning unit is damaged as a result of any of these, you may get compensation from an insurance claim.
HAVE A PRIME DAY™!
PRIME Insurance provides all forms of nationwide coverage, including NJ travelers insurance, cheap auto insurance NY, low quote commercial umbrella insurance Houston, TX, flood insurance, PA renters insurance, KY homeowners insurance, NJ bonds, OK workers comp, life insurance and more. We invite you to experience the PRIME difference! Visit us on our online insurance website; email us at PRIME [at] primeins [dot] com or call us at 732-886-5751.

Summary: The temperature reads well into the 90's with a real feel in the 100's. Beat the heat with these timely tips from your insurance friends.