Avoiding the Snow Sport's Risk Exposure
For us old-fogies, the memories of sledding down a steep hill bring almost as much pleasure as the pastime. Now that you are a parent, you certainly want to give the same feeling of exhilaration to your children. But, beware! Sledding can present countless dangerous risks that need to be avoided!
Following the safety policies set down by experts will help your kids enjoy the winter activity without injury.
Keeping Safe down the Slope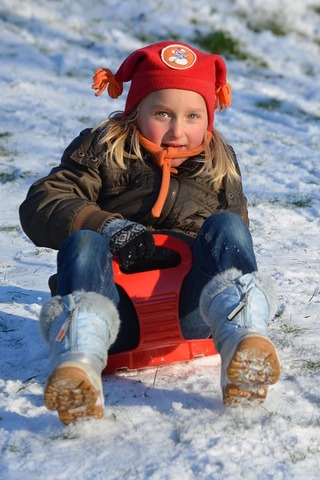 Avoid collisions. Choose a slope that is unobstructed by trees, barriers, electric poles and the like that your child's sled could crash into.


Encourage your child to wear protective headgear. Just like the motorcycle or ATV rider, your sled-rider's chances for incurring a head injury will be greatly minimized if a helmet is part of the attire.


Adhere to manufacturer's capacity. If your child's sled is meant to seat only one, it really is a safety risk to add someone else to the ride.


One at time down the hill! There's more of crash-accident likelihood if there is an abundance of sleds simultaneously going downhill. Try to minimize the traffic!


Your child needs to quickly move away once he's hit the bottom of the hill to avoid being the target of a fast-sliding uncontrollable sled. Instruct your child to run out of other sleds' paths immediately after reaching the end of the slope. For safety's sake, it's best to create two paths on either side of the hill, one for sleds going down and one for climbing back up.


Don't overdo too much of a good thing! End the day before your child develops signs of hypothermia or frostbite and warm up with a nice hot cup of cocoa at home!
RELATED: how to keep safe in the cold
PRIME Insurance brings this informative article as part of its ongoing public-awareness blog series. An experienced independent agency, PRIME has been recognized by prestigious awards and by being appointed to deal directly with scores of the top insurance companies. Providing all forms of nationwide coverage, including NJ general liability insurance, auto insurance, homeowners insurance, umbrella insurance, business insurance, workers comp, bonds and more, PRIME invites you to discover the excellence of its first-class service!
Visit us online at http://www.primeins.com/, email us at PRIME [at] primeins [dot] com, or call us at 732-886-5751!