St. Patrick's Day has evolved from a day for Irish-Americans to celebrate their heritage to a day for all Americans to revel. But the hard partying associated with the holiday comes with consequences — namely more drunk drivers on the road. Every year, law enforcement agencies across the country set up drunk driving checkpoints to catch people driving under the influence during St. Patrick's Day weekend.
Driving drunk is dangerous for drivers and for others on the road. For those who face DUI convictions, drunken driving can be a huge financial burden. In addition to a fine, potential jail time and loss of income, those convicted of DUI face other costs such as lawyer's fees and alcohol education classes.
While fines and fees are one-time payments, DUI convictions also come with a recurring financial penalty: increased car insurance premiums. On average, drivers face an increase of $857.53 a year for car insurance after a DUI conviction, and the premium increases can last for years.
NerdWallet analyzed two groups of St. Patrick's Day events: First, the graphic below focuses on the nation's top parades, according to the International Business Times. In these cities, the parties start early and so does the drinking. When the festivities come to an end, and if you've had a few green beers, this graphic shows how the long-term costs of a DUI will spoil many future celebrations.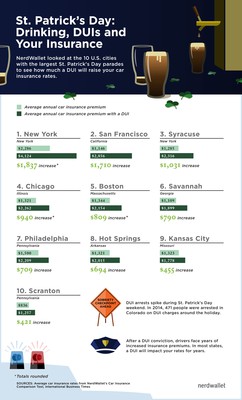 At Prime Insurance Agency, we can work with you to make sure you've got the coverage you need, while at the same time using all possible credits and discounts to make that coverage affordable.
Call us at 732-886-5751 or send us a note at PRIME [at] primeins [dot] com. We want to help you meet your goals, and make sure what's important to you is protected!