Sadly, injuries and deaths from deck collapses are not uncommon. Just this past April, eight students attending Ohio's Cedarville University were injured when a second-floor deck collapsed during a gathering at a home. None of the injuries were life-threatening, but the accident did result in broken and dislocated bones. Most interesting, perhaps, was the fact that the deck was built within the last 10 years, and not considered "old."
The occurrence of deck collapse disasters tend to increase as the summer months approach and we spend more time outside. Homeowners should be aware of effective ways to inspect their outside areas to avoid decking disasters and be knowledgeable of their insurance options in case this unfortunate situation occurs.
Annual deck inspection
In the United States alone there are estimated to be 40 million decks in use that were built 20-plus years ago, according to the North American Deck and Railing Association (NADRA). Building codes, construction methods, and decking materials have changed considerably in those 20 years. Add in the fact that decks are outdoor structures constantly at the mercy of rain, sun, snow, and extreme temperature fluctuations, and it's easy to see why an annual deck inspection is a smart idea.
Water damage, insect infestation, wood rot, and separation of the house and deck ledger board aren't always visible to the untrained eye. NADRA provides a listing of qualified deck inspector members who must comply with state licensing and insurance requirements as well as adhere to a code of ethics.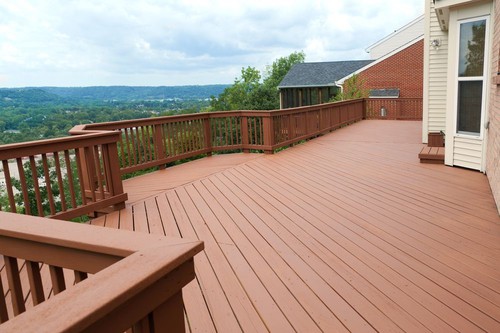 1. Inspect the wood
Inspect several areas of your deck to ensure the wood is still sound. Specifically, check the ledger board, support posts and joists beneath the deck, deck floor boards, railings and stairs. Look for small hole in the wood or evidence of sawdust/wood dust. Examine any areas that are regularly exposed to water, tend to remain damp, or are in regular contact with fasteners. If you can easily penetrate the wood or if the wood is soft and spongy, you might have wood decay.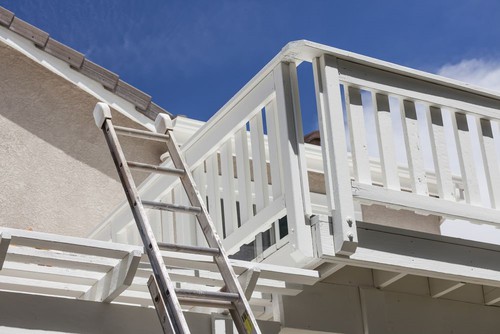 2. Flashing check
Proper installation of ledger board flashing is critical, say decking experts. Flashing works to prevent moisture and debris from collecting between the house and the ledger board. Ensure that your flashing is installed behind the siding and over the top of the ledger board. Flashing should run the entire length of the ledger board and be free of any nail or screw holes. If you notice water collecting anywhere, add flashing or replace what's already there.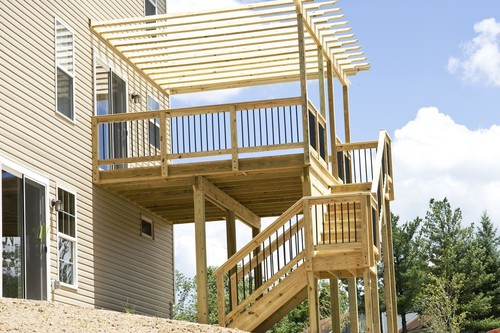 3. Check your fasteners
If you have wood decking, check for popped nails and pound them down or replace them. Tighten any loose screws. Replace rusted or corroded fasteners, as the corrosion can deteriorate any surrounding wood.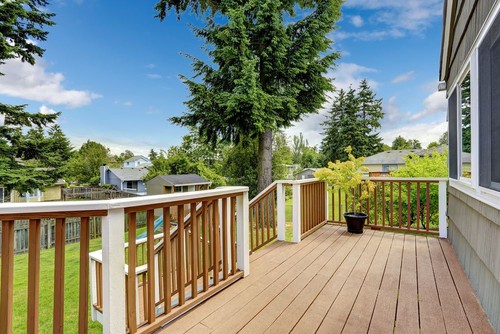 4. Prevent railing failure
Deck railing is as much as safety issue as a style statement. In fact, more injuries result from rail failure than complete deck collapse, reports the International Association of Certified Home Inspectors (InterNACHI). Push on your railing to ensure it doesn't "give" in any way.
Ensure your rail complies with local building codes. That means a rail height of 36", although 42" is required in some states and for commercial applications. Measure the spacing between balusters.
To prevent small children and pets from squeezing through, the distance between each baluster cannot exceed 4" for line sections and 4-3/8" for stairs. What's more, the "triangle" created between the stair tread, riser, and guardrail cannot be large enough to allow a 6" sphere to pass through.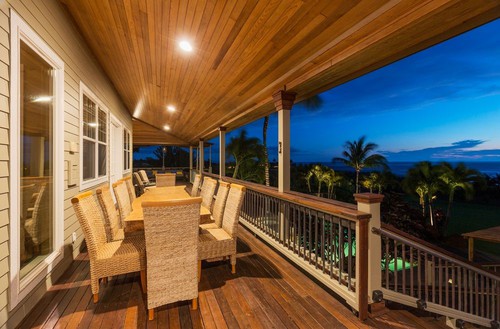 5. Light it up, safely
All electrical outlets, appliances and features must be code-compliant, childproof (if you have children or young visitors), and in good condition. If electrical cords are present on the deck, ensure they do not present a tripping hazard.