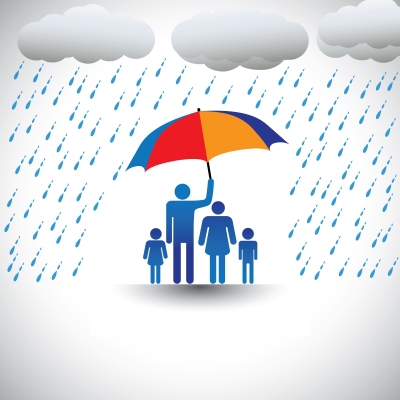 One of the biggest gaps in Americans' personal financial planning is the lack of umbrella insurance. Designed to cover any liability costs that exceed the limits on traditional home, auto and watercraft insurance, personal umbrella policies are typically inexpensive (for the value of coverage).
Yet many – if not most – individuals are not covered by an umbrella policy. What are you risking by omitting this simple aspect of your insurance protection?
Without a Personal Umbrella Policy, You Could Lose Everything
Without an umbrella policy to cover any excess at-fault liability costs, you could be saddled with potentially catastrophic financial losses. Especially when you consider that motor vehicle liability awards in 2009 jumped almost 40 percent to an average of $48,480 and wrongful death claims averaged $2,185,000 (according to the National Law Journal).
While standard home and auto liability policies cover between $100,000 and $300,000, umbrella policies can cover up to $100 million under a single carrier. A good rule of thumb is to take on one-to-two times your (vulnerable) net worth, while taking into consideration your lifestyle-related risks and visible wealth.
Liability Risks are Everywhere
This is not "special occasion" insurance – it's crucial for everyday risks. More than 80% of umbrella losses are auto-related.
It's easily possible to imagine the following scenarios (and many others):
A teenage son on his parents' auto policy loses control and slams into another vehicle, injuring the driver.
A driver falls asleep at the wheel and veers into the next lane, forcing another driver to swerve to avoid a collision. The swerve throws the driver off-balance, and launches their car over the curb and into a glass-front retail structure, destroying merchandise and injuring an employee.
A contractor working on a kitchen renovation trips over a pile of scrap wood, and lacking sufficient personal coverage to pay his resulting medical costs, sues the homeowner.
If the policyholder is found to be at-fault, standard liability insurance will be used up quickly. Where will the excess funds come from to pay for the injured's medical bills, repair costs, and legal fees?
Personal Umbrella Policies are Relatively Inexpensive
A typical homeowner with two cars can get a $1 million policy for $250 to $400 a year, according to the Insurance Information Institute.
While it's an important consideration for everyone, high net individuals especially should hold umbrella policies – and update them frequently. As wealth grows, the sophistication and coverage of the umbrella policy must keep pace to assure adequate coverage.
Image courtesy of smarnad / FreeDigitalPhotos.net