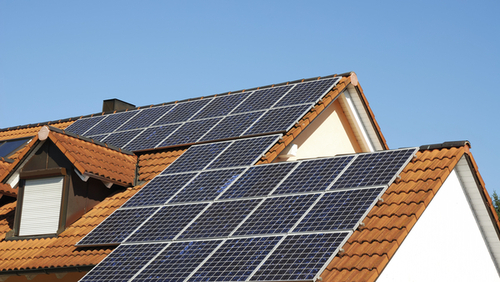 Solar panels can help cut your energy costs.
As energy rates continue to climb and more people are concerned about climate change, adding solar energy to homes and businesses seems to be a more viable option. And technology has improved so that you can still use the panels even if you don't have a southern exposure, which is ideal. In some cases you may be able to install the panels in your yard instead of on the roof.
But are there specific insurance issues that potential solar customers need to be aware of?
Check out the contractor
As you would with any major remodeling or renovation project, do your homework and talk to more than one solar installation contractor if you can. Try to get references from others whose properties are similar to yours so you have a basis of comparison for the work. Confirm whether your local zoning laws require permits or variances; the contractor should be responsible for obtaining these for you.
To work correctly, the federal Energy Department says, your solar electric system or photovoltaic (PV) system needs to be sized, sited, installed, and maintained correctly. Make sure your contractor is properly licensed or certified to work with PV systems, and check to see how many years of experience the company has. Ask whether the contractor also insures any subcontractors on the job and whether all the employees are covered by workers comp. Agree on the condition of the premises before the contractor starts work so if damage occurs, you won't find the installer claiming that your roof was already in need of repair before the workers arrived.
What about warranties?
It's also important to find out what kind of warranties are available for the work and for the equipment itself. You may purchase the best equipment available but if it isn't installed correctly, you won't reap the benefit.
According to SolarEnergy.net, a website dedicated to news and information about solar energy, "the key to understanding the warranty on your solar power system is considering each component separately, as well as recognizing that the installer's work is also a separate matter." The typical parts and labor warranty covers two years, in addition to the regular manufacturer warranties on the individual solar components. A name brand solar panel will have a 20- to 25-year warranty on the power output.
Will my homeowners policy premium go up?
Although insurance carriers vary in the way they account for solar panels in calculating premiums, most have some kind of coverage in place. However, you should talk to your agent to determine whether adding solar panels will increase your premiums or make you eligible for a discount. You and your agent should consider:
Is the solar energy system likely to suffer damage from tree branches or other objects striking the panels?
Are lightning strikes, fire or high winds a potential hazard? How about hail, snow or torrential rains?
Is the system likely to be vandalized or have parts stolen?
Will your current carrier continue to insure your property or do you need specialized insurance?
You may also be eligible for energy tax credits from your state or local government as well as on your federal taxes. If you're thinking about going green and switching to solar – let the sun shine!